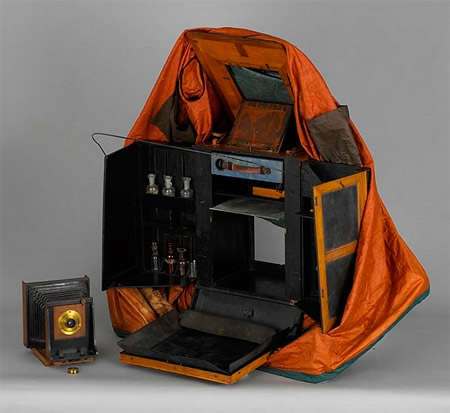 If wet plate collodion field photography, trekking and weight lifting happen to be your 3 hobbies, then this one's for you.  Complete with a portable lab, that folds up into a massive wooden backpack the whole kit weighs a "mere" 12.4 kg (without tripod), circa 1870 that was apparently ultra light. When you see how small the camera (about the size of a 4×5") looks compared to the lab case, it gives you an idea of the mad proportions of this "travel photographer's" kit.
Dimensions: H. 107 x L. 92 x P. 80 cm – 12,4 kg.
This is one of many amazing cameras on display at the "Musée français de la Photographie" (the French photography museum in Bièvres, a small town near Versailles. The place is absolutely crammed with cameras form the classic Rolleis and Leicas to some incredibly strange modified large format models…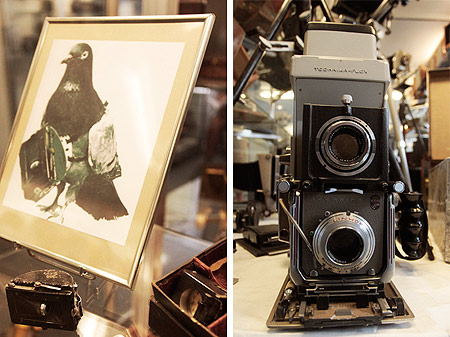 L: A camera for a carrier pigeon!
R: A modified technikaLinhof 4×5, turned into a giant twin lens reflex, now that must be really light!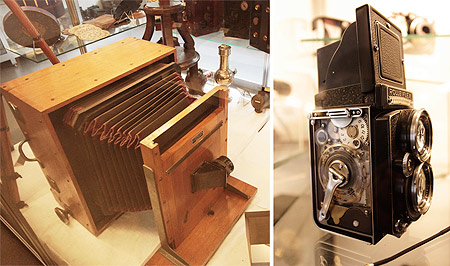 L: This large format camera was huge at least 20×24″ couldn't find any info on the strange periscope-like lens. Designed for a narrow L shaped studio perhaps!
R: A Rolleiflex with a transparent panel showing the mechanism inside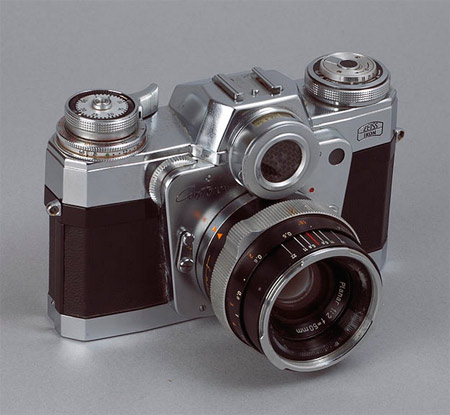 ZEISS IKON – Contarex in perfect condition with a selenium cell
Musée français de la Photographie
78, rue de Paris
91570 Bièvres
Tel : 01 69 35 16 50
Fax : 01 60 19 21 11