A journey into the loony & brilliant world of Terry Gilliam, filmmaker, screenwriter, animator, actor and a true original. From his Monty Python days to his cult movies like Brazil, Gilliam has always done it his way. Notoriously disaster prone and not necessarily the ideal role model, nonetheless, this man's determination and unique creative vision have left a strong imprint in my mind. A long time admirer of his work, I was lucky enough to photograph Terry in Bangkok in 2006.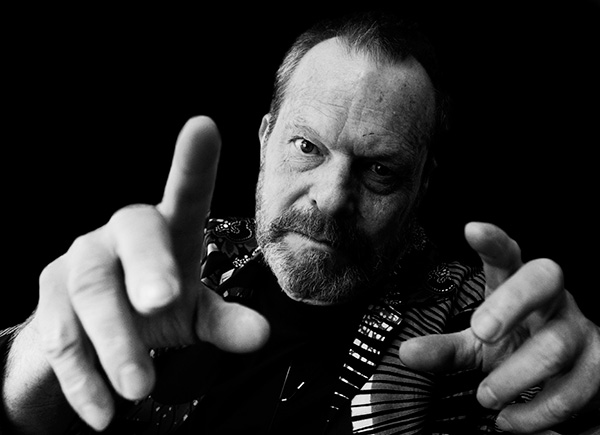 Gilliam, photographed in Bangkok. © Cedric Arnold / realfeatures.com
A few years later I received a call from his production team informing me that Gilliam wanted the above image to be used in the trailer for his then up-and-coming The Imaginarium of Doctor Parnassus. The film, which turned out to be Heath Ledger's last performance, is a wild adventure also featuring singer Tom Waits as the devil.  I knew very well that the likelihood of a major studio going for a black and white still of the director looking scary to use in a trailer was close to zero, but needless to say I was very flattered.
Fast forward to 2014 and Gilliam seems set for a big cult classic come back of the Brazil kind with his latest offering The Zero Theorem, which is already getting rave reviews. Some reports claim he is yet again reviving his cursed project "The Man Who Killed Don Quixote". His last attempt was one of the biggest disasters in the history of cinema, which saw the whole set swept away in a flash flood and the main actor diagnosed with a double herniated disc (rather problematic when a part requires so much horse riding). The whole debacle is hilariously documented in Lost In La Mancha.
And now for a bit of history. First of all, let's clear something up, Gilliam is American unlike the rest of Monty Python. Well, no, he actually is British, and has been for a long while. But the catch is he was actually American. Complicated enough start? He relinquished his US citizenship , he's now officially solely British (He had dual citizenship for ages and has lived in the UK for 45 years). Gilliam was absolutely furious at the news of George W Bush's re-election in 2004. His immediate reaction was captured on set and is part of the very good documentary Getting Gilliam which comes with the DVD of the not so great Tideland. He was later quoted as saying:
"Have people forgotten I made Brazil? George W, Cheney, and company haven't. I'm thinking of suing them for the illegal and unauthorized remake of Brazil." […]"The best way to control people is to keep them scared"
Classic extract from Brazil's Ministry of Information sequence, featuring some very good "long takes"
So, Terry Vance Gilliam was born in Medicine Lake, Minneapolis, Minnesota, 22 November 1940. His father was a traveling salesman before becoming a carpenter. The family moved to California because of his sister's asthma. At high school there, he discovered Mad magazine, which proved to be a big influence in his early carrier as an animator.
A straight A student, he went on to university where he first studied physics, then switched to fine arts before finally majoring in political science. This mixed bag of early interests is probably key to how he eventually developed the themes and aesthetics of his movies. Gilliam contributed to the college magazine, Fang, and quickly became its editor. He turned the publication into a tribute to Harvey Kurtzman the editor of Help! Magazine, to whom he later sent copies.  After college, Gilliam briefly worked for an advertising agency before Kurtzman offered him a job at Help! magazine.
Animations:
Terry Gilliam began his career producing animations and cartoon strips; one of the strips for Help! featured future Monty Python colleague John Cleese. After moving to England, he animated for Do Not Adjust Your Set, and met future Pythons Eric Idle, Terry Jones, and Michael Palin. Gilliam went on to create the now legendary opening credits of Monty Python's Flying Circus. The surreal and often irreverent animations that he became known for also often linked the show's sketches together. Gilliam also appeared in several sketches, and played small parts in the troupe's films.
Gilliam's classic  Monty Python opening credits
Television is bad for your eyes…
Film Directing
Gilliam turned his attention to directing and screen writing, his directional debut was Monty Python and the Holy Grail (1975), co-directed by fellow Python Terry Jones. His first solo directional effort was Jabberwocky (1977), which was based on the Lewis Carroll story of the same name and stared Michael Palin.
Extracts from The Holy Grail: "French taunting"
Gilliam followed Jabberwocky with Time Bandits, again featuring Palin and also this time John Cleese. Gilliam describes Time Bandits (1981) as the first in his "Trilogy of Imagination" films (along with Brazil and The Adventures of Baron Munchausen): they are about "the craziness of our awkwardly ordered society and the desire to escape it through whatever means possible." Gilliam does indeed let his imagination run wild and the plots of his films often occur partly or fully in his characters' minds, pushing the boundaries of identity, sanity and, of course, imagination.
In 1985 came the now cult classic Brazil, set in an Orwellian world, the tale mocks bureaucracy, reflecting Gilliam's own hatred for it. But the film is also about dreams and escapism, with Sam the main character dreaming of life going beyond his mind-numbing job and life. It is part dream and fantasy and part nightmare, it is also a technological nightmare where things are in fact completely dysfunctional… The cinematography is excellent and Gilliam's now classic use of wide and ultra wide angle lenses adds to the weirdness of it all.  Whimsical devices, high tech monitors with old magnifying glasses attached to them, antique and modern coming together, steaming pipes abound, and these have all become part of Gilliam's world…  Co-written with Tom Stoppard, Brazil has become a highly regarded film and hugely influential one, with the Cohen Brothers (The Hudsucker Proxy) and Jean Pierre Jeunet (City of Lost Children) drawing inspiration from it.
Brazil Trailer
After Brazil came the hugely expensive / box office disaster the Adventures of Baron Munchausen (1988), which was followed by the huge success of the Fisher King (1991) and big earner Twelve Monkeys (1995), which saw Gilliam's use of strange monitors, steaming pipes etc… "a la Brazil" make a big comeback…
Twelve Monkeys
And then for something completely different, Gilliam adapted Hunter S Thompson's drug and booze infused Fear and Loathing in Las Vegas, featuring Johnny Depp and Benicio Del Toro
Tideland, described as "Gilliam, at his most unrestrained" I think they wanted to say: "Gilliam at his most weird" not a huge fan of that one… But the documentary that comes with the DVD version called "Getting Gilliam" is fascinating and pretty hilarious with quite a few scenes where you really get to see things from his perspective as he mounts a small camera on his head…
Production problems, natural Disasters, bad luck and fights with Hollywood
Gilliam has made a few extremely expensive movies beset with production problems. After the lengthy quarreling with Universal Studios over Brazil, Gilliam's next picture, The Adventures of Baron Munchausen, cost around US$46 million, and then earned only about US$8 million in US ticket sales. In the mid-1990s, Gilliam and Charles McKeown developed a script for Time Bandits 2; the project never came to be, as several of the original actors had died. He also attempted to direct a version of Charles Dickens A Tale of Two Cities, which collapsed due to disagreements over its budget and choice of lead actor.
In 1999, Gilliam attempted to film The Man Who Killed Don Quixote, budgeted at US$32.1 million, among the highest-budgeted films to use only European financing; but in the first week of shooting, the actor playing Don Quixote (Jean Rochefort) suffered a herniated disc, and a flood severely damaged the set. The film was canceled, resulting in an insurance claim worth US$15 million. (Gilliam's reputation in this regard has been sufficient for the satirical newspaper The Onion to run a news article entitled "Terry Gilliam Barbecue Plagued By Production Delays".) Although the film was canceled, the story behind the whole production was filmed by a second crew hired by Gilliam to document the process. (This was as sort of an insurance for Gilliam, learned from previously canceled productions.) This production story was made into the documentary Lost in La Mancha.He has attempted twice to adapt Alan Moore's Watchmen comics into a film. Both attempts (in 1996 and 2000, respectively) were also unsuccessful.
Lost in La Mancha
Gilliam has also proven that he can mastermind some big commercial successes too. The Fisher King (1991) was nominated for five Academy Awards, Twelve Monkeys grossed over US$168 million worldwide, and The Brothers Grimm has grossed over US$105 million worldwide.
The Zero Theorem Trailer
Gilliam quotes:
On reasons for relinquishing his US citizenship: "Have people forgotten I made Brazil? George W, Cheney, and company haven't. I'm thinking of suing them for the illegal and unauthorized remake of Brazil."
On Hollywood: "Hollywood is run by small-minded people who like chopping the legs off creative people. All they want to do is say no."
On his style / films: "I do want to say things in these films. I want audiences to come out with shards stuck in them. I don't care if people love my films or walk out, as long as they have a strong response."
I just like the fact I can make a film which might give comfort to some people who think they are the only crazy person in the world and suddenly they see there are two crazy people in the world.
Terry Gilliam's Filmography:
 http://www.economist.com/blogs/prospero/2012/05/qa-terry-gilliam
http://www.rollingstone.com/movies/features/terry-gilliam-brazil-zero-theorem-monty-python-20140919
Sources: Wikipedia, IMDB + Lost in La Mancha & Getting Gilliam (documentaries)